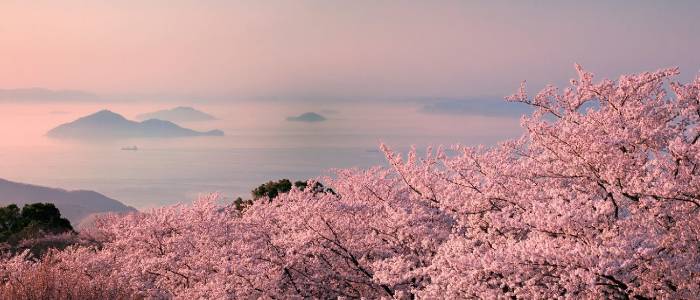 Gin and tonic (Setouchi style), anyone? 
A relaxing Gin and Tonic, or two, is perhaps not the first pleasure which springs to mind when contemplating a visit to western Japan's fascinating and relatively under-explored region of Setouchi. Tour planners and individual travellers alike are more likely to be drawn to the numerous better-known and more tangible tourism attractions and physical attributes of the area – not least, by its natural beauty throughout, tranquil settings, laid back lifestyle, visitor friendly population, cultural and arts treasures and gastronomy, among many other assets.
These days, special interest tour operators (particularly those promoting food and drink) and tour planners seeking to add variety to their programmes can – when visiting Hiroshima City (in the prefecture of Hiroshima) – arrange for their clients to enjoy locally-produced Dry Gin at the Sakurao Brewery and Distillery in the nearby town of Hatsukaichi while, at the same time, taking in the beauty of the fabled island of Miyajima which it overlooks.
Although Sake breweries abound throughout the Setouchi region, the beverage being Japan's national alcoholic drink, the century-old Sakurao Brewery and Distillery in Hatsukaichi (about 20 kms from Hiroshima City) has embarked on a new endeavour to produce western-style beverages like gin and whisky. Although currently temporarily "off-limits" due to Covid-19 restrictions, a comprehensive Sakurao Distillery Tour is usually on offer where visitors can sample Sakurao Gin produced from 17 specially selected local botanicals including the particularly strong local Green Lemon, oysters from nearby waters, Japanese Juniper Berry leaf, green tea and wasabi, among other ingredients.
Hatsukaichi, located on the main island of Honshu is close by and opposite the sacred city of Miyajima, the site of the famed UNESCO World Heritage Itsukushima Shrine.
The Setouchi region, comprising the seven prefectures, Hyogo, Okayama, Hiroshima, Yamaguchi, Kagawa, Tokushima and Ehime, is marketed via the Setouchi Destination Marketing Organisation (DMO) and represented in UK by Supereps International.
Thank you
As a special thank you to tour operators already featuring, planning to feature or considering programming Setouchi we will send a sample (100 ml) bottle of Sakurao Gin Original to the first 10 respondents who signify to us that they meet this criterion.
CHEERS!